"I don't know where Yōgan went and it's not like I care." ~ about Yōgan Hibana.

Tasuri Tinto was the younger sister of Yōgan Hibana who was the princess until age five then Tasuri became heir to the throne.
Background
The birth of Tasuri
Born on November 23, Tasuri Tinto was born to the King and Queen of the Tinto Kingdom which was on the plains that rested at the foot hills of the Todoroki Volcano and as the younger sister of Yōgan.
Becoming the princess
When Tasuri was four years old, she saw a young boy fall from the volcano so her older sister climbed up the Todoroki Volcano and since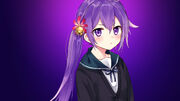 Yōgan wasn't there anymore so Tasuri became the princess.
Elder Years
Death of Yōgan
At the age of 84, her sister died in the arms of Satō Hibana who was her sister's husband.
Death of Tasuri
Tasuri died a few days after Yōgan in her room alone due to poison.