Kakeru (翔る, Kakeru) was the summoned owl of Rōzu Haruno.
Background
He was first summoned when Rōzu was in the academy then he was summoned from then on.
Personality
Kakeru was serious and sometime sarcastic. He showed great respect to his summoner and Itachi Uchiha by calling them Rōzu-san and Itachi-shi or "Ms. Rose" and "Mr. Itachi" and in return, they called him Karu. He liked the name Karu so much that he insisted to be called that and only that.
Appearance
He was a white owl with medal on his shoulders and forehead.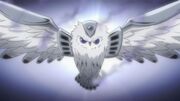 Kakeru did not wear a headband but he did have one but it was rarely worn.